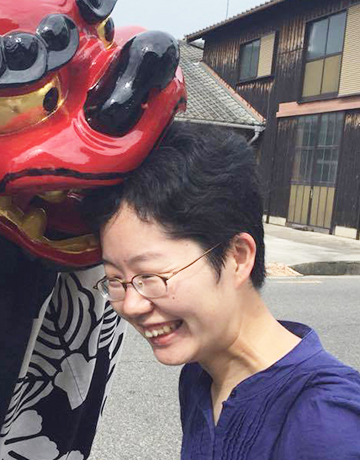 AFFILIATION
Project Assistant Professor / Liberal Arts Communicator
National Institutes for the Humanities, National Museum of Ethnology, Japan.
ACADEMIC FIELD & RESEARCH 
Ethnomusicology and Folk Performing Arts Studies
RESEARCH FIELDS
Korea, Japan
COMMENTS
I was interested in arts that could be performed by visiting houses, as exemplified by my study of Korean folk entertainment "Nong-ak," and encountered the Japanese specialized performing arts group "Ise Dai Kagura." In this research project, I will investigate and report on folk performing arts in Japan and abroad, which are staged at houses they visit, and whether or how the traditions are being passed on despite the COVID-19 pandemic. In particular, I will focus on the effects of the COVID-19 pandemic on the activities of Ise Dai Kagura, which continues to travel even today.
MAJOR WORKS
Booklet Series "Let's Learn about Asia, 43 Korean Nong-ak and Na Gum-Chu: Life history of a female nong-ak master and the modern history of nong-ak [in Japanese], Fukyosha Publishing Inc. (October, 2016)
"Ethnomusicology to Meet People: Korea, Japan, and Worldwide," Ami Kaneko, Shiho Kokura, Chie Kamino, Yuki Tanaka, Sayuri Inoue, Booklet Series "Let's Learn about Asia, Separate volume 18 Joys of Studying Music—Meet, Be Fascinated, and Figure Out," [in Japanese], Fukyosha Publishing Inc., pp. 40–55 (October, 2019)
"Still the Ritual Lion Performers Continues Traveling: Record of Traveling Lion Dance Performers Ise Dai Kagura, [in Japanese], Ethnology Quarterly, 45(1), The Senri Foundation, pp. 83–93 (January, 2021)
"Walking through Japan with the Ise Dai Kagura during the COVID-19 Pandemic," [in Japanese], Special Website COVID-19 and Field Workers, International Research Center Research Institute for Languages and Cultures of Asia and Africa (May, 2021)
RELATED WEBSITE
Photographs and captions related to my research